NC Bullet Train
Currently, (spring and summer of 2016), the wye at Raleigh is out of service due to construction of the new station. Without a practical way to turn the Piedmont train sets each night, NCDOT decided to run the trains with an engine at both ends. The seats in each coach have been reconfigured so that half face forward and half face backwards. When the cars were originally reconstructed, they were outfitted with multiple unit (MU) cables. These allow the engines to work together as one, even though they are located in different parts of the train.

Once the Raleigh wye is put back in service, the push+pull operation will continue. When all the double tracking, curve realignments and siding installations have been completed on the Piedmont line, the plan is to add another Piedmont frequency. With less time between arrivals and departures at Charlotte, there won't be enough time to turn the trains anyway. NCDOT has purchased additional locomotives which will be refurbished, but will have the prime movers removed. These will serve as operating platforms for the engineer.

When the two newest locomotives, 1755 and 1797, are used in this push+pull operation, to me it looks like an NC version of a bullet train. Here is a video of train 73 stopping at the Cary station in late May, 2016. The video was shot by Susan Bobinyec.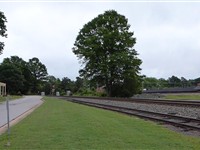 Supported browsers are Firefox, Chrome and Safari.
Discussion Group
With no active moderator, it was impossible for new people to post messages to the original group. So we opened up a new group on Google. However, efforts were continued to get an active moderator for the original group. John Bobinyec was successful in becoming a moderator and the restrictions on postings by new folks were removed. The new discussion group on Google was deleted, since it was no longer necessary.
WE'VE MOVED
The move has been completed. Now we can concentrate on the enhancements that the directors have been wanting.
WE'RE MOVING
What's Changing?
What's Moving?
Why Are We Moving?
Why Are We Moving Now?
Will Our Website Go Down During The Move?
How Long Will It Take To Move?

What's Changing?
It's necessary to change web hosting companies. Our website name, CAPTRAIL.ORG, is not changing.

What's Moving?
The domain, CAPTRAIL.ORG, is being moved from one company to another.

Why Are We Moving?
I do business with both companies. Our board of directors has requested more website functionality. In order to deliver that, I am going to have to expand the web services that we get from the commercial company. I prefer the new company. Also, because of better network performance to the new company, our response time should be better. This means that the web pages will load faster than with the current company.

Why Are We Moving Now?
The current company that we use is retiring the server that we use on June 24. They notified me about this on June 6. They explained that Microsoft has withdrawn support for the version of Windows that this server uses, and it is now a security risk. Obviously they knew this for at least a year. The fact that they gave only a very short notice is one reason why I decided to move. The other was that I feel they should simply have moved everything to a new server behind the scenes, transparently.

Will Our Website Go Down During The Move?
Yes and no. There's likely a 60 day period involved in actually moving the domain. This normally wouldn't be a problem, except that the server that we use is going offline in less than three weeks. So, while the transfer is taking place, after the server goes down, you probably can't get to our website using http://captrail.org . However, there is an older, still in service, way to get there: http://trainweb.org/capt

How Long Will It Take To Move?
Because the server that we use is going down on June 24 (see previous question), it will probably be necessary to use the alternate path to get to our website: http://trainweb.org/capt . This will be necessary until the domain is actually moved, as late as August 6. After that the new path will come online: http://captrail.org

John Bobinyec