Service Reductions
Trains Magazine (online) has announced the proposed tri-weekly schedules that will take place in October, on a staggered basis. Currently, the U.S. House has passed a bill which would prevent this from happening, but as of now, it hasn't been taken up in the Senate.
For completeness, we already have:

Auto Train
Northbound 52: Daily
Southbound 53: Daily

Cardinal
Eastbound 50: Tu Th Sa
Westbound 51: We Fr Su

Sunset Limited
Westbound 1: Sa Mo We
Eastbound 2: We Fr Su

Silver Star
Southbound 91: Fr Sa Su
Northbound 92: Th Fr Sa

Silver Meteor
Southbound 97: Mo Tu We Th
Northbound 98: Su Mo Tu We

The proposed schedules will be implemented as follows:

Changes as of Oct. 5:
California Zephyr
Westbound 5: Sa Mo We
Eastbound 6: Tu Th Sa

Capitol Limited
Westbound 29: We Fr Su
Eastbound 30: Th Sa Mo

City of New Orleans
Northbound 58: We Fr Su
Southbound 59: Th Sa Mo

Crescent
Southbound 19: Fr Su Tu
Northbound 20: Th Sa Mo

Changes as of Oct. 12:
Coast Starlight
Southbound 11: Sa Mo We
Northbound 14: Mo We Fr

Lake Shore Limited
Eastbound 48/448: Th Sa Mo
Westbound 49/449: We Fr Su

Southwest Chief
Westbound 3: Th Sa Mo
Eastbound 4: Tu Th Sa

Texas Eagle
Southbound 21: Fr Su Tu
Northbound 22: Fr Su Tu

Changes as of Oct. 19:
Empire Builder
Westbound 7/27: Th Sa Mo
Eastbound 8/28: Tu Th Sa

Palmetto
Southbound 89: Th Sa Mo
Northbound 90: We Fr Su

(-)
CAPT Meetings To Be Rescheduled
Please be aware no meetings of the Carolinas Association for Passenger Trains are planned at this time. Once the current crisis is over the board will consider future meetings. There is not a meeting scheduled for Raleigh in May.
Hope all is well with everyone.
Martin Wheeler
President
Carolinas Association for Passenger Trains
3/22/2020
(-)
NC Bullet Train
Since the spring of 2016, the Piedmonts have run with an engine at both ends. The seats in each coach have been reconfigured so that half face forward and half face backwards. When the cars were originally reconstructed, they were outfitted with multiple unit (MU) cables. These allow the engines to work together as one, even though they are located in different parts of the train.
This configuration started during track construction for the new Raleigh station since there was no way to turn the trains there at that time. Afterwards, in June 2018, it helped to utilize this configuration when the fourth frequency between Raleigh and Charlotte was added. With less time between arrivals and departures at Charlotte, there isn't enough time to turn the trains. NCDOT has purchased additional locomotives which will be refurbished, but will have the prime movers removed. These will serve as operating platforms for the engineer.
When the two newest locomotives, 1755 and 1797, are used in this push+pull operation, to me it looks like an NC version of a bullet train. Here is a video of train 73 stopping at the Cary station in late May, 2016. The video was shot by Susan Bobinyec.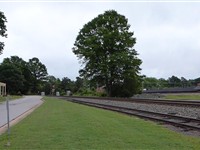 Supported browsers are Firefox, Chrome and Safari.