Annual Meeting 11/16/2019 in Landrum, SC
7 standing members of the Board of Directors were re-elected to 2 year terms:
Ralph Messera
Bill Cole
Jim Frierson
Phil Astwood
John Bobinyec
Gene Kirkland
Martin Wheeler
Don Yehle was elected to a two year term.
4 standing board members elected at the 2018 annual meeting are now entering year two of their terms:
Bob Bischoff
Leon DeBaer
Ed Locklin
David Robinson
Art Peterson was recognized for his many years of service on the Board.
Election of Officers for one year terms was also accomplished at the meeting:
Martin Wheeler - President
David Robinson - N.C. Vice-President
Don Yehle - S.C. Vice-President
Phil Astwood - Secretary
Gene Kirkland - Treasurer
A meeting schedule for 2020 was decided:
| | |
| --- | --- |
| Winston-Salem - | January 18th |
| Fayetteville - | March 21st |
| Charleston - | May 16th |
| Raleigh - | July 18th |
| Columbia - | September 19th |
| Charlotte - | November 21st |
All CAPT members are encouraged to provide input for the update of the North Carolina Rail Plan now underway. Go to the State Rail Plan Survey Page https://ncstaterailplan.metroquest.com
New Discussion Group 11/7/2019
Our old discussion group was on Yahoo. Yahoo recently decided to withdraw support for all groups. By 12/14/2019, they will erase them all.

Our old conversations have been downloaded and saved, but they are not in readable format. Over the next few months I hope to clean them up and post them on our website.

A new discussion group has been started on group.io. Invitations to join have been sent out to the email addresses of the members of the old forum on Yahoo.
(-)
NC Bullet Train
Since the spring of 2016, the Piedmonts have run with an engine at both ends. The seats in each coach have been reconfigured so that half face forward and half face backwards. When the cars were originally reconstructed, they were outfitted with multiple unit (MU) cables. These allow the engines to work together as one, even though they are located in different parts of the train.
This configuration started during track construction for the new Raleigh station since there was no way to turn the trains there at that time. Afterwards, in June 2018, it helped to utilize this configuration when the fourth frequency between Raleigh and Charlotte was added. With less time between arrivals and departures at Charlotte, there isn't enough time to turn the trains. NCDOT has purchased additional locomotives which will be refurbished, but will have the prime movers removed. These will serve as operating platforms for the engineer.
When the two newest locomotives, 1755 and 1797, are used in this push+pull operation, to me it looks like an NC version of a bullet train. Here is a video of train 73 stopping at the Cary station in late May, 2016. The video was shot by Susan Bobinyec.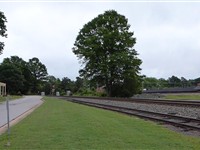 Supported browsers are Firefox, Chrome and Safari.