FROM THE CAB - SEPTEMBER 2023
By Martin Wheeler, President, Carolinas Association for Passenger Trains
It's a good time to ride the rails. People are traveling on the Piedmont in record numbers. Carolina Panther football games and the North Carolina State Fair are among special events set to increase those numbers even more. With the startup on Friday (9/22) of passenger rail service between Orlando International Airport and Miami, Americans are able to travel on rails between those two Sunshine State cities in a little more than three hours. One of Amtrak's favorite long-distance routes – the Empire Builder – provided a CAPT board member an awesome memory with promise for more.
PIEDMONT CORRIDOR TRAINS CONTINUE RIDERSHIP INCREASES – NC By Train ridership continues to grow and set records with highest ridership volume ever at nearly 57,000 passengers in July. A fifth round trip between Raleigh and Charlotte was added on July 10. Since July, ridership between Raleigh and Charlotte is up 24%.
CHARLOTTE-RALEIGH CORRIDOR TO FEATURE SPECIAL TRAINS - The NC Rail Division is coordinating special train movements and additional stops along the Charlotte-Raleigh corridor over the next several months due to special events which include "Day Out with Thomas" at the North Carolina Rail Transportation Museum, the NC State Fair, and the Carolina Panthers football games. The additions should provide extra travel opportunities for persons using the Piedmont trains which have skip stops for certain runs. Already planned is the annual stop for all trains at the Lexington Barbecue in October.
MIAMI – ORLANDO INTERNATIONAL RAIL SERVICE LAUNCHED - Meanwhile, in Florida, on Friday, September 22, bright yellow (Brightline) trains opened up a new age of passenger rail in the Sunshine State if not the United States. In just over three hours – running at top speeds of 130 mph – rail passengers are able to travel between Miami and Orlando International Airport's (MCO) Terminal C. Click on the link below for more information:
High-speed rail in Florida: Brightline opening Orlando route Sept. 22 - The Points Guy
BOARD MEMBER'S EMPIRE BUILDER ADVENTURE – I am pleased to report that my cross- country trip on Amtrak's "Empire Builder" came off without a hitch! After weeks of reading about long delays, mechanical failures, derailments, cancellations, and other mishaps on this iconic route, my round trip from Selma, NC to Portland, OR and back could not have been smoother!
This odyssey took place from August 15th to September 1st (with an eight-day stay in Portland) and involved four different Amtrak routes--the "Carolinian", the "Cardinal", the "Empire Builder", and the "Capitol Limited". All departures were on time, the connections I needed to make were seamless, and arrivals were on time, just slightly late, or even a few minutes early!
The day-long tour of Glacier National Park I incorporated into the trip west was dampened just a bit by the presence of smoke and haze from Canadian wildfires, but not markedly so. The segment through the Columbia River Gorge the next day was affected even more, but conditions in the Gorge on the return trip were almost letter-perfect for that late afternoon ride, truly one of the most scenic in the entire Amtrak network!
I had some trepidation about making the connection in Chicago with the "Capitol Limited" for the segment back to DC, but after the 48-hour, two overnight trip, the EB rolled into its destination only ten minutes late. The meals on all segments were good, as was the company in the dining car and the views in the observation car. And last but not least, all five car attendants on this trip were top-notch, and anybody who has been on one of these trips will tell you that makes a world of difference!
Here's hoping that I haven't used up all of my Amtrak good fortune, as I still have the "Southwest Chief" and "Sunset Limited" on the docket for future trips, hopefully not too far in the future!"
Tommy Thomas, CAPT Board of Directors
NEW CHARLOTTE GATEWAY STATION - "A group of CAPT members and other interested parties were given a look at the new double track passenger platform in place for the future Charlotte Gateway Station this past Monday (9/18). The structure provides a center platform and allows trains to come off the mainline for stops and servicing needs. It will not have a full- length canopy or be as long as the present platform at the aging North Tryon Street station in use since late 1963. But it makes up for those with numerous other improvements.
Due to delays in determining a light rail alignment into the facility for the future Silver Line, construction will not start on the multi-modal transportation station until late 2025 with completion expected in late 2027 or early 2028. Designs for the station, which will be part of a multi-use high rise are expected be ready for review and consideration within a month or so. The actual approval process may take up to a year.
The possibility of a "temporary station " to service the platform is now being considered by Amtrak, NC Department of Transportation, and Charlotte Area Transit System. The site of the temporary station would be on land adjacent to the rail line between Trade and 5th Streets. The temporary Greyhound Station modular building now in use near the site may be relocated there. Greyhound and CATS are now trying to find another location for Greyhound while the multi-modal station will be in construction. A recent request by Greyhound for use of city land near the JW Clay light rail station in the University area was rejected by Charlotte City Council.
South of the new platform is the lead track to the NC DOT maintenance and servicing site completed recently but not yet used by NC DOT Rail Division and Amtrak. Access to this area is only allowed by traversing the platform tracks from the station at this time. The site already has additional land for expansion south of Summit Avenue where a connection to the NS mainline would allow access from the south end of the maintenance facility. With the completion of a new wye connection track east of the airport at the Norfolk Southern railroad's "Charlotte Junction" passenger trains with only head end locomotives could be reversed for movements in the opposite direction, and also be able to pull in head forward into the rail maintenance facility. The trains would then be ready for northbound movement into the Charlotte Gateway station platform.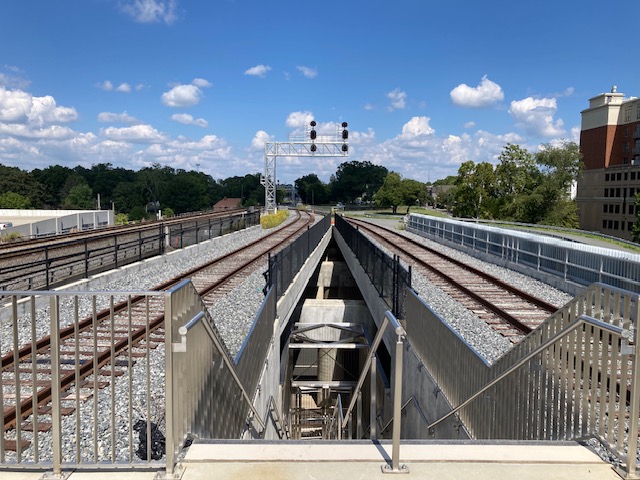 NC RAIL ADVOCATES PUSH FOR MORE PASSENGER RAIL - At the September CAPT board meeting in Charlotte, your voluntary leadership had the opportunity for discussions with two members of the NC Rail Division team. Issues discussed were:
The Charlotte Gateway Station
Western NC Rail Passenger Feasibility Study
FRA Corridor ID program.
Planning for additional trains on the Piedmont Corridor, some of which could extend to Columbia, SC, in future years.
The R2R high speed corridor planning between Raleigh and Richmond.
Funding for purchase of the North Carolina-owned segment between Ridgeway and Raleigh is one item being considered this week as the North Carolina Legislature approves a budget for the present fiscal year which started in July, board members learned.
The Eastern NC Rail Passenger Feasibility draft study is expected soon, looking at alignments and operation issues between Raleigh and Wilmington. The NC DOT team was also informed of right of way issues CAPT members have noticed on the Wilmington lead which is the pathway for future train service into the city.
OCTOBER RELEASE PLANNED FOR WESTERN NORTH CAROLINA FEASIBILITY STUDY – The NC DOT Rail Division is now finalizing the Western North Carolina Passenger Rail Feasibility Study draft presented earlier this summer. The final document will be circulated to all stakeholders in October. Norfolk Southern has indicated its intention to coordinate on next steps for the proposed Asheville-Salisbury service.
The corridor is expected to be included in selections for the Federal Railroad Administration (FRA) Corridor Identification and Development Program (CID). It's one of 12 corridors North Carolina submitted in April with announcement of selected corridors expected in November. Coordination with FRA and railroads would begin at that time to include railroad reimbursement agreements to conduct detailed Rail Traffic Controller (RTC) modeling of selected corridors to establish needed infrastructure needs.
As for funding several MPO's are considering submitting the project for consideration in Strategic Transportation Investments (STI) prioritization this cycle. STI or other non-federal state and local sources could support the match requirement for a future grant. A 20% non- federal grant match for design and construction is expected for corridors.
A resolution is being prepared by the Western NC Rail Committee supporting the WNC Passenger Rail Feasibility Study. A resolution has been prepared and will be sent to Committee members. Committee Co-Chair Ray Rapp stressed the importance of support at all levels of government, local to federal. More work is expected to gain additional support in the state legislature especially on the Senate side.
RAIL SERVICE BETWEEN HENDERSONVILLE-ASHEVILLE? - The Apple Valley Historic Railroad Museum has had preliminary conversations with Blue Ridge Southern to be the rail service provider for its proposed Hendersonville-Asheville rail passenger service. AVHRM project head Larry Morton says the main obstacle is access to the historic Biltmore passenger station location and Norfolk Southern rail yard further north in Asheville.
Blue Ridge Southern has lost considerable business due to the closing of the Canton paper mill on one of its lines. The company is looking for other revenue opportunities assisted by NC DOT and other area interests.
Elsewhere in Western North Carolina, Andrews Valley Rail Tours is now operating pedal railcar recreation tours on the GSMRR line east of Andrews. The operation opened in April. It is a two hour, five-mile excursion using motor assisted railbikes. For more information: Andrews Valley Rail Tours - Scenic Rail Tours in Andrews, NC
NEW TRANSPORTATION SECRETARY FOR NC - Joey Hopkins will be the new Secretary beginning October 1st. Hopkins has worked for NC State government for more than 30 years and has an operations background, most recently as Chief Operating Officer for NC DOT. He replaces Eric Boyette who has served in the post since his appointment in February of 2020. Before that Boyette was Secretary and Chief Information Officer for the state's Internet Technology (IT) operations.
ACT NOW TO ENCOURAGE TRAIL WITH RAIL - Passenger rail advocates need to speak up on October 17 (Inman, SC) or on October 19 (Columbus , NC) that there's differing opinions on the best version of the Saluda Grade Trail. "Why was there never an idea of combining rail with the trail which would be a win win for everyone???, asks CAPT President Martin Wheeler.
"I plan to attend the NC meeting and may also attend the SC meeting. An important transportation resource may be lost for future generations despite the provision trails have to convert back to rail by federal law with viable proposals," Wheeler said.
CAPT MEMBERSHIP AT 84 - North Carolinians dominate membership in the Carolinas Association for Passenger Trains (CAPT). Members hail from nine states (Colorado, Florida, Georgia, New Hampshire, North Carolina, Ohio, South Carolina, Virginia, and Washington) and the District of Columbia. Total dues paid YTD is $1,300.
"We are thankful our membership in North Carolina and elsewhere has more than doubled in just a year," CAPT President Martin Wheeler said.
Fifty-eight North Carolina members live in 31 cities in the Tar Heel State. Cities represented are Asheville, Brasstown, Burlington, Cary, Castle Hayne, Clayton, Charlotte, Chapel Hill, Concord, Durham, Fayetteville, Greensboro, Greenville, Hendersonville, Hillsborough, High Point, Knightdales, Landis, Matthews, McLeansville, Mt. Holly, Morganton, Nebo, Ocracoke, Pinehurst, Raeford, Raleigh, Rocky Mount, Weaverville, and Wilmington.
South Carolina's 13 members reside in 11 cities (Bluffton, Charleston, Chapin, Columbia, Conway, Greenville, Little River, Seneca, Newberry, Spartanburg, and West Columbia).
Students and seniors (65+) pay $15 to belong to the passenger rail advocacy group, while individual dues for other adults is $25. A corporate membership is $100. To learn more about CAPT or how to join, enter Carolinas Association for Passenger Rail into your browser.
CAPT'S SEARCH FOR NEW SECRETARY CONTINUES – An on-line thesaurus lists these six words as synonyms for secretary. They are assistant, clerk, executive secretary, receptionist, typist, and word processor.
CAPT President Martin Wheeler assures current and aspiring board members there are no office hours for the position. "Unfortunately, there's no salary for the organization's secretary position, either. "Big pay raises are coming for all CAPT officers and board members, it will just take some time," he said tongue in cheek.
While admitting there's a backlog of meeting minutes to transcribe, President Wheeler assures a soon to-be-elected secretary that a team of board members is being assembled to tackle writing up past minutes. "Your board needs one person to attend future board meetings, transcribe what's said, share that information at the subsequent meeting, and be involved with elections each November," he said.
THIRTEEN CAPT BOARD AND OFFICER POSITIONS TO BE FILLED – At CAPT's annual membership meeting in Raleigh on November 18, elections will be held for five offices – President, NC vice-president, SC vice-president, treasurer, and secretary. One-year terms of service end in two months for President Martin Wheeler, North Carolina Vice President David Robinson, South Carolina Vice President Jim Frierson, and Treasurer Ralph Messera. (The secretary position remains vacant.)
Seven CAPT board members are also completing their two-year terms of service, including Phil Astwood, John Bobinyec, Bill Cole, Frierson, Messera, Don Yehle, and Wheeler. Tommy Thomas is finishing a one-year appointed term. By-laws require advanced notification to the secretary if your intention is to run again. Since CAPT is without a secretary, the eight above board members need to either appear at the Raleigh meeting or notify President Wheeler of your intentions.
Officers are elected by the board of directors. "With all sincerity, I want any CAPT member who would like to serve on our board to contact me at mwheeler3@att.net, President Wheeler said.
CAPT CONTINUES TO MONITOR PIEDMONT OTP — Since new schedules for the Piedmont were put in place in July, the Carolinas Association for Passenger Trains has been monitoring on-time performance. No clear picture exists of how the schedule changes are impacting service.
Statistics as printed below are important to the traveling public, as the closer the Piedmont Service gets to OTP = 100s, the more confidence potential users will have in trusting these trains for their travel through Piedmont North Carolina.
CAPT's figures are based on end terminal actual arrival times, different than a system used by Amtrak and NC DOT to measure on-time performance. Some of the late trains in our data may not be considered late by Amtrak and NC DOT due to the system they use.